The Dancers
At Kiftgates Court Garden.
Dancing Stone
The Dancing Stones inspiration came from three small flints measuring 12.5cm high that I found while beachcombing some 25 years ago.
All three of them evoke a life force, with captured movement within.
They work well as a trio, but each exude a demeanour of their own, leaving the viewers imagination to accept the charm of the dancing stones.
Cast in Bronze Resin and a limited edition of 9
Available in bronze.
Dancing stone
Dancing Stone
Bronze Resin
Dancing Stones
The Dancing Stones
Limited edition of 9
Back To Backs
Exhibiting at Greys Court ,Henley on Thames Oxon
Family Group
Family Group
Limited edition of 9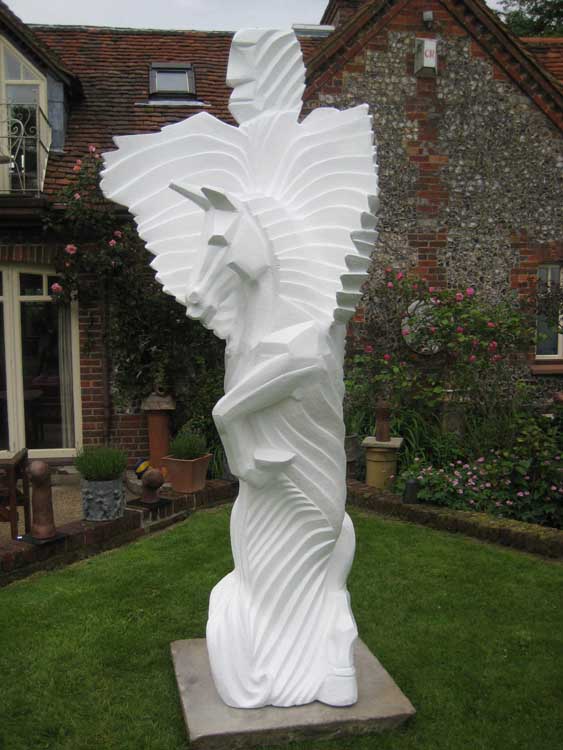 The Guardian of the Unicorn
Marble Resin
Limited edition of 9, also available in bronze resin
Sculpt At Kew Exhibition
Shape Shifter
Bronze Resin, 50cm x 36cm x20cm, Ed 1/14
Sculpt at Kew indoor marquee gallery
The Watchers
​Mixed media
Avebury Manor Exhibition
My Dancing Stones at The Magical Avebury Manor home to the largest stone circle in the world.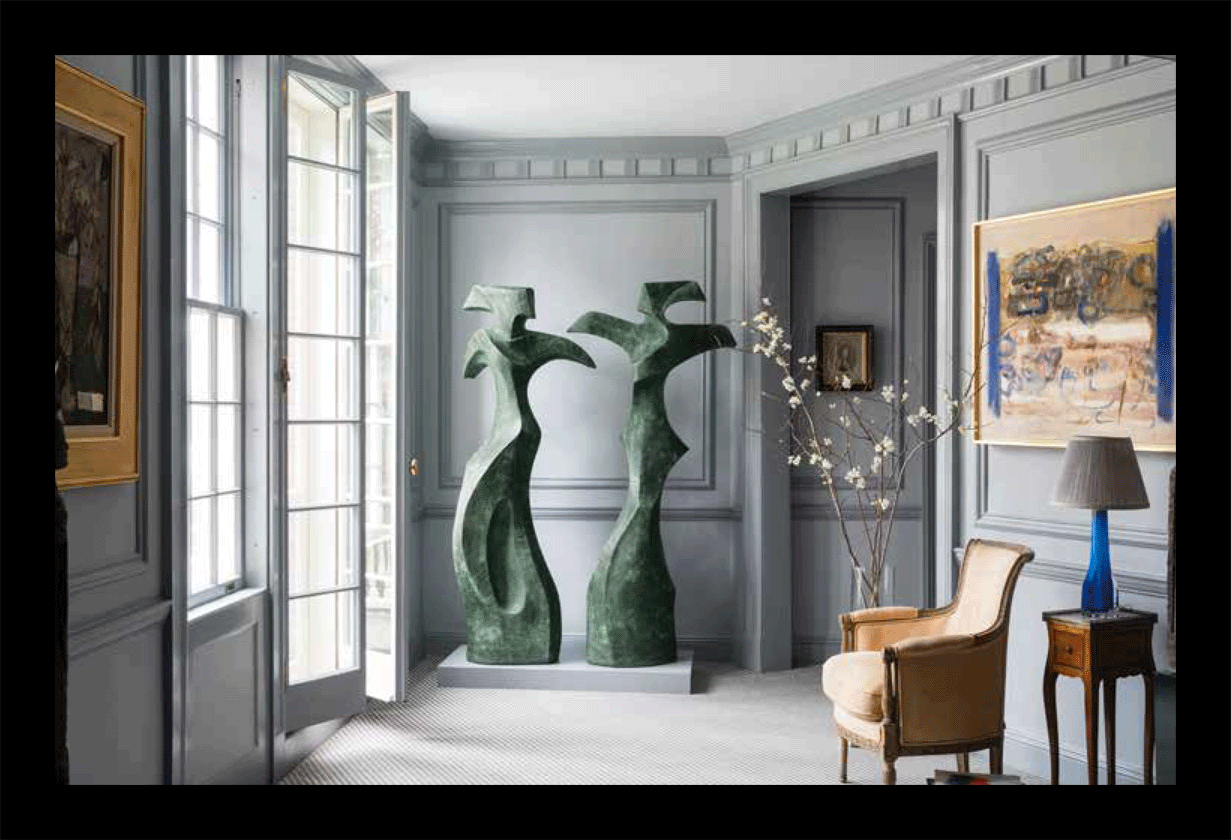 "The Dancers"
A nice surprise to find my "Dancers" in Elle Décor magazine. They sold in a worldwide auction sponsored by Sotheby's, only information I was given, was that they went to America. The owners had a three page article about their home, refurbished by designer Val Nikitin. "The Dancers" were placed in the upstairs gallery, interesting that they are comfortable being displayed in interior and exterior locations!
"The Dancers" Exhibiting at Greys court Henley On Thames.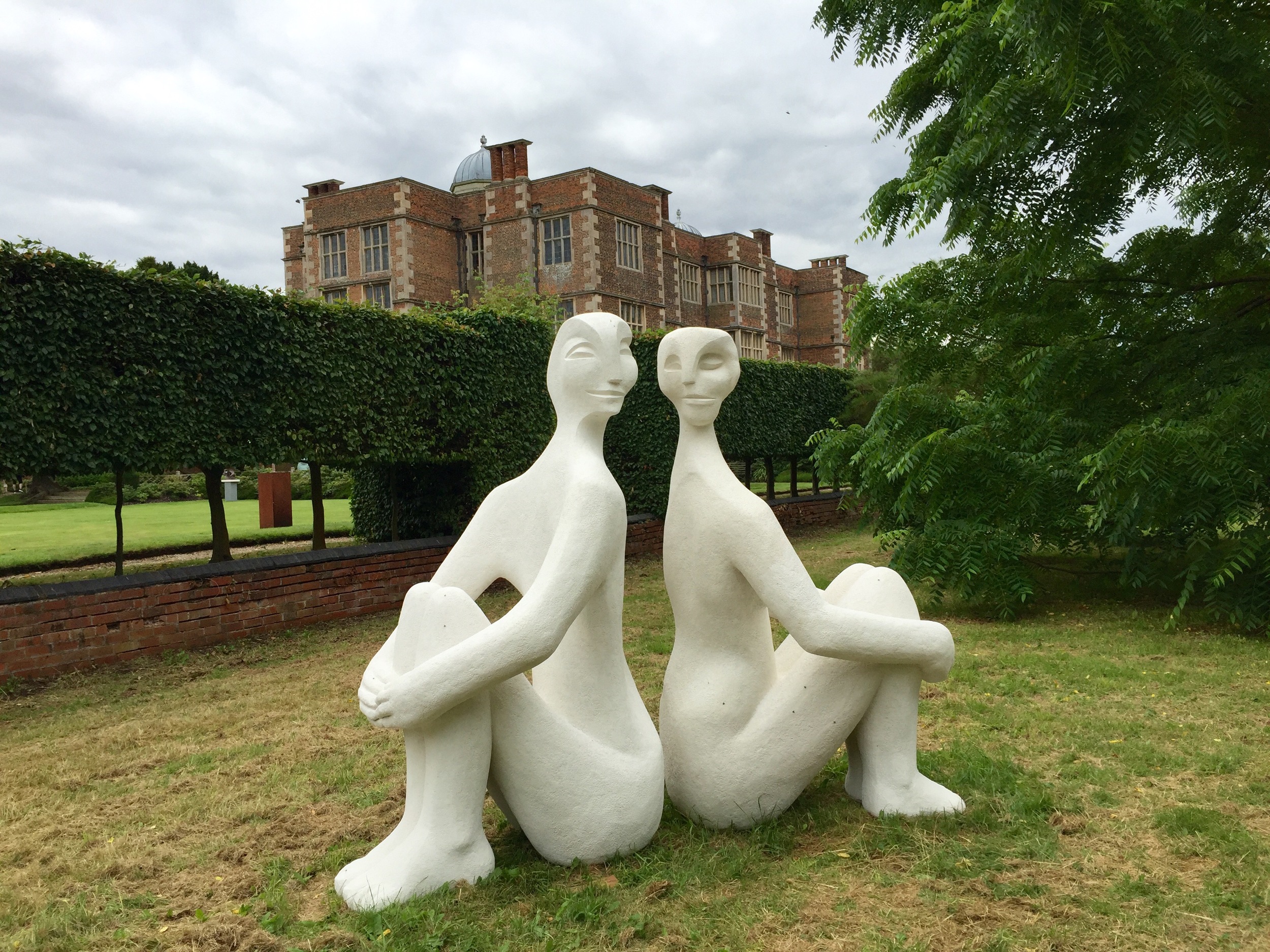 Back to Back
Limited edition of 9
The Dancers
The Dancers are available by commission. Limited edition of 9.
Back to Backs
The Back to Backs in the Times newspaper!
The Dancers
The Dancers evolved through a selection of 2 dimensional drawings
Static in presence, but commanding a dance to the imagination of the viewer.
They can be displayed in multiple positions, together, sideways, apart, but
creating a lovely balance of unity even in their separation.
Cast in bronze resin limited edition of 9
5 available.
Available in bronze.
Family Group
Sculpt at Kew indoor Marquee Gallery
Shapeshifter
Bronze Resin
50cm x 36cm x 20cm , Edition 1 / 14